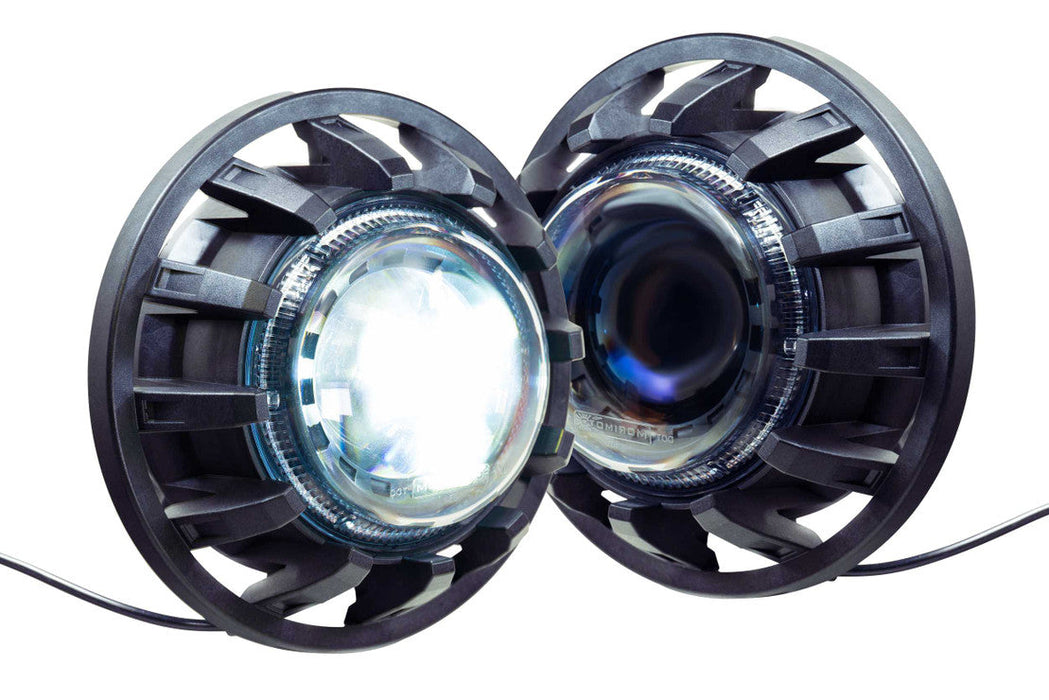 Super7: Morimoto Bi-LED
Original price
$500.00
-
Original price
$500.00
Found a better price? Let us know and we will match it
Availability:
in stock, ready to be shipped
Revolutionary:  The Super7 is the world first high-performance, fully modular Bi-LED replacement for all industry-standard 7in Round Headlights. Nothing comes close to offering the same quality of light, the ability to customize the look, or the ease of assembly. We are just as bored as you are with today's selection of 7" LED headlights for Jeeps, and that's why we're so excited about Morimoto's new Super7!
MLED 2.0:  Unlike other options on the market that use reflector or generally inefficient multi-optic projector based setups, the Super7 now embodies the Morimoto M LED 2.0 projectors. We love good old HID-powered projectors more than Kanye loves Kanye... BUT....Truth be told, The new M LED 2.0 is the best Bi-LED projector currently available. At the same time, it's better than any Bi-xenon. Put simply it's hard not to like the new M LED 2.0. The performance unparalleled. The simplicity is sublime. The instant on is awesome. The original M LED was great when it came out, but by today's standards it's no longer on the leaderboard. Now it's two-point-o time!
Performance Optics:  We'll just start with the hotspot. It's brighter than a D2S 5.0 with a CBI and 50w ballast, and 10% brighter than it's closest LED based competitor. The Kuria optic clear lens and koito-esque beam shaper produce a beam pattern that's way wider than a D2S 5.0 too. Their ECE-sloped beam pattern is super sharp and colorful. You can expect up to 83,000 peak CD--that is a lot of light. Width and intensity are common characteristics that are easy to engineer and explain, but it's important not to downplay the importance of distribution! 80% of the optical engineering hours went into optimizing the way that every last lumen ended up on the road in the name of maximizing visibility both up ahead and off to the sides of the road. Each facet of the M LED 2.0's dual reflector bowl was carefully considered (and re-considered, and re-considered again) to ensure that the results were nothing short of perfection (both by the numbers, and subjectively). Yoshi Ishida, Morimoto's chief engineer, Yoshi Ishida, you nailed it.
Form & Function:  We don't really need to talk about how different this thing looks, we know you can see it. BUT, it's worth noting that the headlight isn't just designed this way for the hell of it. The aerodynamic design is purposeful in order to allow airflow to pass through the housing and cool the integrated heat sink at the rear - which is mated to the Bi-LED projector. Form indeed follows function, but it just so happens that form ended up a winner too.
Fitted:  The Super7 Headlights were designed specially for use on Jeep Wranglers. Countless prototypes were produced, fitted to a JK, and modified until the end result was something that fits like a glove. Zero interference with any structural components behind the headlights. No need to relocate the airbag sensor. Directly compatible with the existing mounting rings and hardware. Here, customizing your Jeep doesn't mean compromising your Jeep.
Plug n Play:  And flicker-free! There is no bulky/complicated relay harness to run for the Morimoto Super7 Headlights. Just mount the external LED driver behind the housing, plug in the H13 or H4 connector to the factory outlet, and you're ready to roll.
Benchmark:  Morimoto. The Automotive Lighting Benchmark. We are globally recognized as the brand to beat when it comes to aftermarket lighting upgrades for the automotive aftermarket. No other brand blends performance, quality, and style quite like we do. Our vast product line covers today's most popular trucks and cars. If you don't see it, trust that we can make it. Whether you're interested in something off the shelf or a brand new product designed exclusively for you: Connect with us Today!
Request an Installation Quote

Call us to get an installation Quote