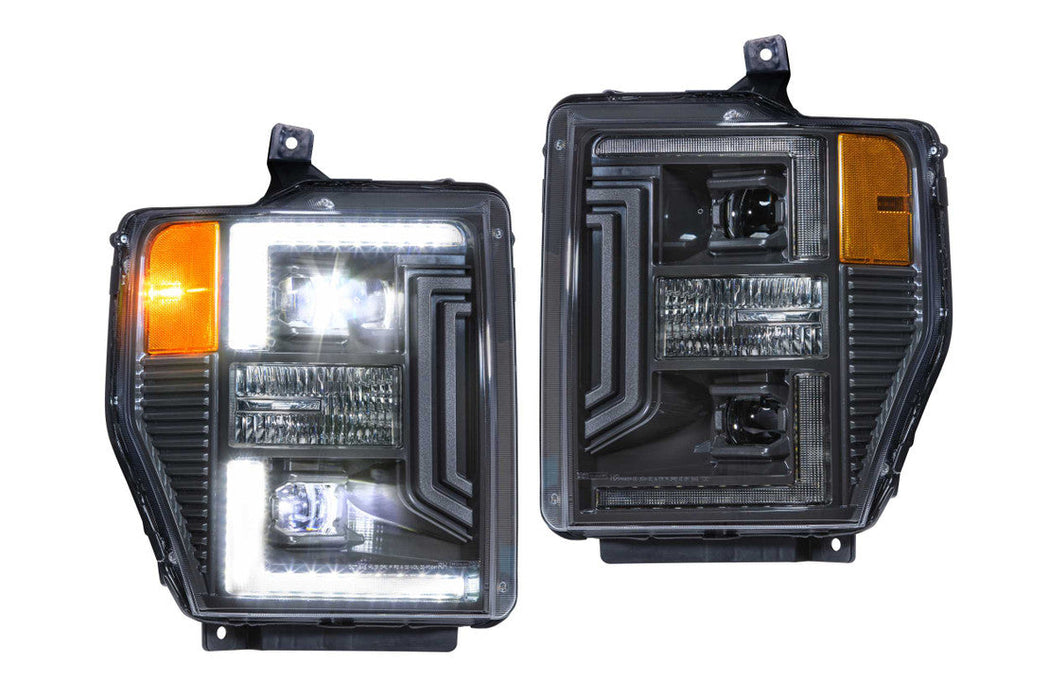 Ford Super Duty (08-10): XB Hybrid LED Headlights
Original price
$1,033.00
-
Original price
$1,033.00
Found a better price? Let us know and we will match it
Availability:
in stock, ready to be shipped
Facelift by Morimoto:  Just because you're driving an older truck doesn't mean you don't deserve to see and be seen. The Hybrid LED Headlights from Morimoto for the 08-10 Ford Super Duty are a front-end game changer for your truck. New look, more light, and reasonably priced... what is not to like?
Updated Design:  The design of the Morimoto XB Hybrids for the 08-10 Super Duty trucks is reminiscent of the more modern OEM LED headlights and there's no question – It is quite fitting as a facelift on these trucks. The LED daytime running light is powered by Osram 5000K LEDs and is probably bright enough to illuminate the road more effectively than your stock halogen Ford Super Duty headlights.
Hybrid Turn Signals:  With the XB Hybrids, you'll re-use your stock halogen turn signal bulb right there in the center of the light – which on one hand is nice in order to avoid any hyperflash shenanigans. Of course, if you're all about having an LED turn signal, no problem... you could put a set of plug n play LED bulbs in the middle too, which we also offer.
Performance and Precision:  Morimoto continues to build headlights that aren't all about looks and nothing more. We've seen the full spectrum, trust us, most aftermarket headlights end up being a downgrade in the light output department – but that's far from the case here. The XB hybrids use a dedicated low and high beam LED projector that produces a supremely wide, bright, and properly distributed beam pattern. Throw. Your. Old. Headlights. Away. Now. Not only that, but these optics meet & exceed all SAE, DOT standards, and come out of the box fully aimed to OEM spec (yes, they are adjustable too).
Plug and Play Wiring:  As for wiring, Morimoto's LED headlights are designed to work on your SuperDuty without any modifications. Very simple plug n play setup with just a few connections that you should be able to setup in no time. Nobody likes to cut and splice wiring, and Morimoto respects that.
Special:  What does an older Super Duty and a new U-haul truck have in common? Well, the stock, garbage headlights of course! If you have this truck, you're probably struggling to see much of anything at night... that's no mystery, that's reality. Give yourself and your truck the well-deserved gift of vision, safety and style. Get yourself a set of the Morimoto XB Hybrid LED headlights for the 08-18 Ford Super Duty.
Benchmark:  Morimoto. The Automotive Lighting Benchmark. We are globally recognized as the brand to beat when it comes to aftermarket lighting upgrades for the automotive aftermarket. No other brand blends performance, quality, and style quite like we do. Our vast product line covers today's most popular trucks and cars. If you don't see it, trust that we can make it. Whether you're interested in something off the shelf or a brand new product designed exclusively for you: Connect with us Today!
Request an Installation Quote

Call us to get an installation Quote