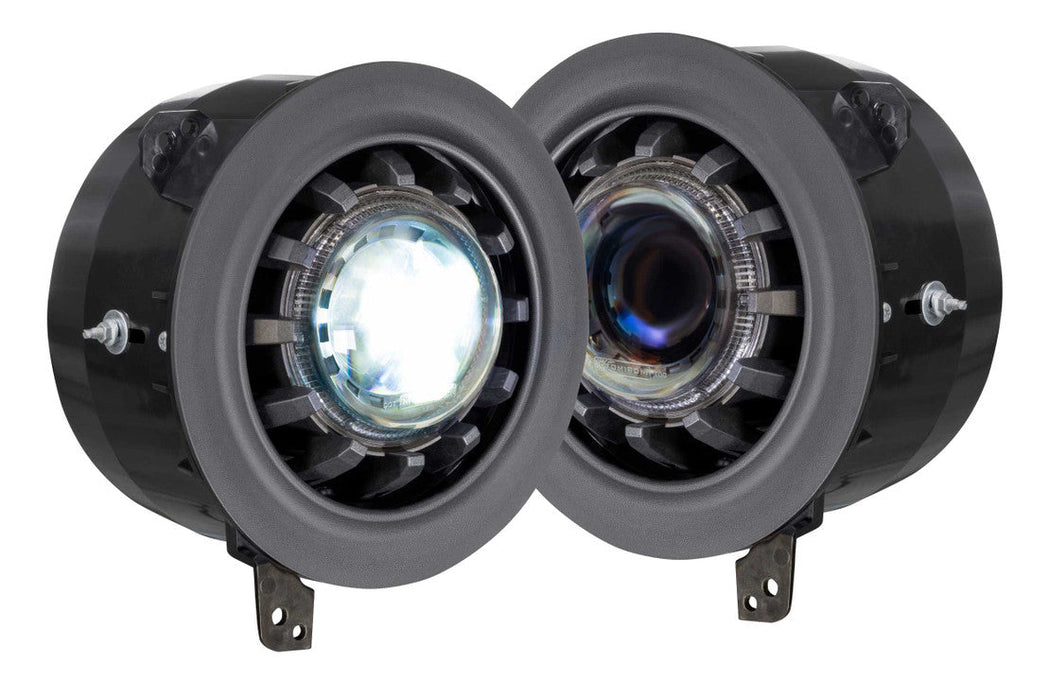 Jeep Wrangler (JL): Super7 Headlights
Original price
$650.00
-
Original price
$650.00
Found a better price? Let us know and we will match it
Availability:
in stock, ready to be shipped
Wrangler JL and JT:  While every biz in the aftermarket has a catalog full of products for the new Wranglers, including headlights, somehow no brand has yet to deliver anything worthy of replacing the OEM headlights. When it comes to style, performance, features, quality, and compatibility; the Morimoto Super7 headlights are the category killer that every JL/JT owner has been waiting for!
Revolutionary:  The Super7 is the world first high-performance, fully modular Bi-LED upgrade for the new Wranglers. Nothing comes close to offering the same quality of light, the ability to customize the look, or the ease of install. We are just as bored as you are with todays selection of UFO-inspired headlights for Jeeps, and set out to make Something different. Something perfect. Something just like the Super7.
Customizable:  The modular design of the Super7 Jeep headlights makes customization! They can be disassembled, paint-matched to your truck, and re-assembled with ease, and all without compromising their weather-resistance or warranty. superior ability to color-coordinate Super7 headlights to your Wrangler
Form & Function:  The Super7 Headlights arent just designed this way for the looks. The aerodynamic design is purposeful in order to allow airflow to pass through the housing and cool the integrated heat sink at the rear - which is mated to the powerful Bi-LED projector. Form indeed follows function, but it just so happens that form ended up a winner too.
MLED 2.0 Power:  Unlike most other Wrangler headlights that use multi-optic projector based setups, the Super7 makes use of our powerful M-LED 2.0 projectors, which are at the top of the performance totem-poll in our product line. Their output is extremely wide, with a perfectly balanced beam pattern, a well-defined low beam, and a high beam that will out-do most offroad LED pods. Peak intensity comes in at a whopping 83,000Cd. The Super7 is more than just another way to set your Jeep apart, it's a true performance upgrade for those who drive in the dark!
Perfectly Fitted:  The Super7 Headlights were designed specially for use on Jeep Wranglers. Countless prototypes were produced, fitted to a new Wrangler, and modified until the end-result was something that fits like a glove. Zero interference with any structural components behind the headlights. No need to relocate the airbag sensor. Directly compatible with the existing mounting rings and hardware. Here, customizing your Jeep doesn't mean compromising your Jeep.
Plug n Play:  And flicker-free! There is no bulky/complicated relay harness to run for the Morimoto Super7 Headlights. Just mount the external LED driver behind the housing, plug in the multi-pin connector to the factory wiring, and you're ready to roll.
Benchmark:  Morimoto. The Automotive Lighting Benchmark. We are globally recognized as the brand to beat when it comes to aftermarket lighting upgrades for the automotive aftermarket. No other brand blends performance, quality, and style quite like we do. Our vast product line covers today's most popular trucks and cars. If you don't see it, trust that we can make it. Whether you're interested in something off the shelf or a brand new product designed exclusively for you: Connect with us Today!
Request an Installation Quote

Call us to get an installation Quote