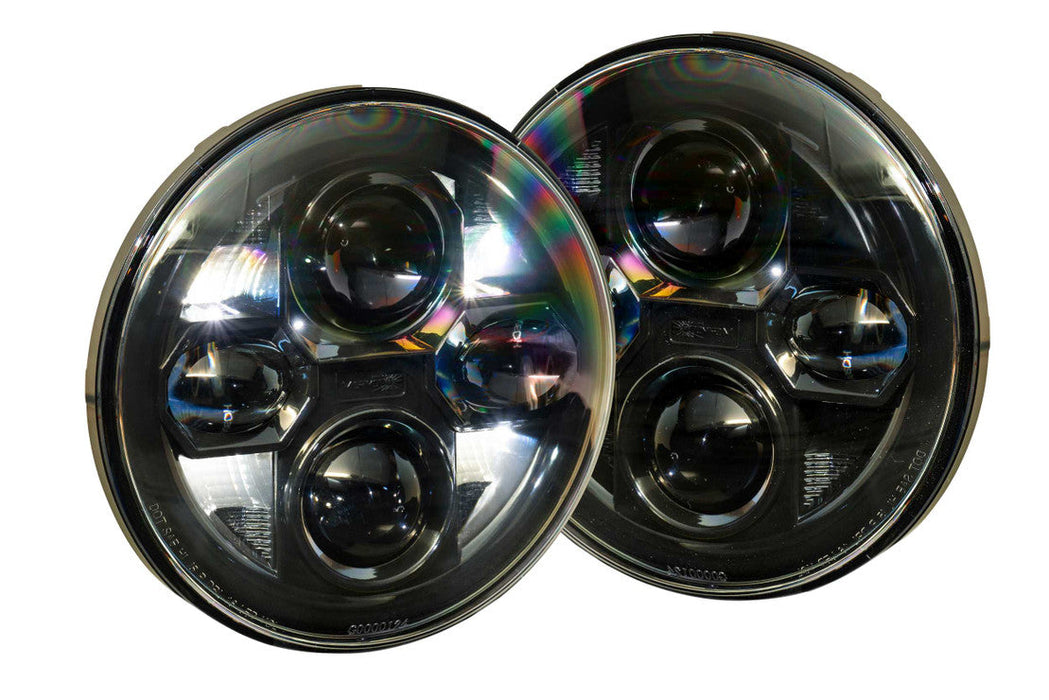 Jeep Wrangler (JK): Sealed7 Headlights
Original price
$600.00
-
Original price
$600.00
Found a better price? Let us know and we will match it
Availability:
in stock, ready to be shipped
Wrangler JK:  While every biz in the aftermarket has a catalog full of products for the Wrangler JK, including headlights, somehow no brand has yet to deliver anything worthy of replacing the OEM headlights. When it comes to clean-style, performance, features, quality, and compatibility; the Morimoto Sealed7 headlights are the category killer that every JK owner has been waiting for!
Output:  The low and high beam optics are powered by the same LEDs used in the new 4Banger offroad LED pods (Nichia NCSW170--pair that with Morimoto's advanced Kuria Optic projector lens and the Sealed7 efficiently distributes roughly 3000 lumens on the road in a properly LHD-stepped beam pattern. Because the Sealed7 runs all optics together in high beam mode, the output is intensified to nearly 4000 mosquito-melting lumens there!
DRL / Switchback:  The quad-optic setup at the corners acts as a high-intensity white daytime running light as well as a switchback turn signal to compliment the blinkers in the lower grille. The switchback setup on the turn signal will automatically interrupt the white DRL, flash, and then return to white once the signal stops. The 3-wire DRL/Signal input makes setup on your Wrangler easy too, since it can be tapped into the turn signals / parking lights that live nearby.
Quality:  No expense was spared on the Sealed7 Spec sheet. At their core, Japanese LEDs from from Nichia and Philips-Lumileds. The UV coated Polycarbonate lens is shatter proof and will take years of abuse without fading. You can feel the precision in the heavy-duty die-cast housings that double as a heat-sink for the powerful LEDs. A special anti-flicker LED driver resides inside of the headlight to keep the LED's running strong despite inconsistent power-supply from the headlight circuit on later model JKs.
7" Standard:  Designed to replace all 7in Round / PAR56 headlights, the Sealed7 offers full low and high beam functionality. They come standard with H13/9008 male inputs, tailored for use on the Wrangler JK - but can easily use an H4 adapter to go old school.
Benchmark:  Morimoto. The Automotive Lighting Benchmark. We are globally recognized as the brand to beat when it comes to aftermarket lighting upgrades for the automotive aftermarket. No other brand blends performance, quality, and style quite like we do. Our vast product line covers today's most popular trucks and cars. If you don't see it, trust that we can make it. Whether you're interested in something off the shelf or a brand new product designed exclusively for you: Connect with us Today!
Request an Installation Quote

Call us to get an installation Quote