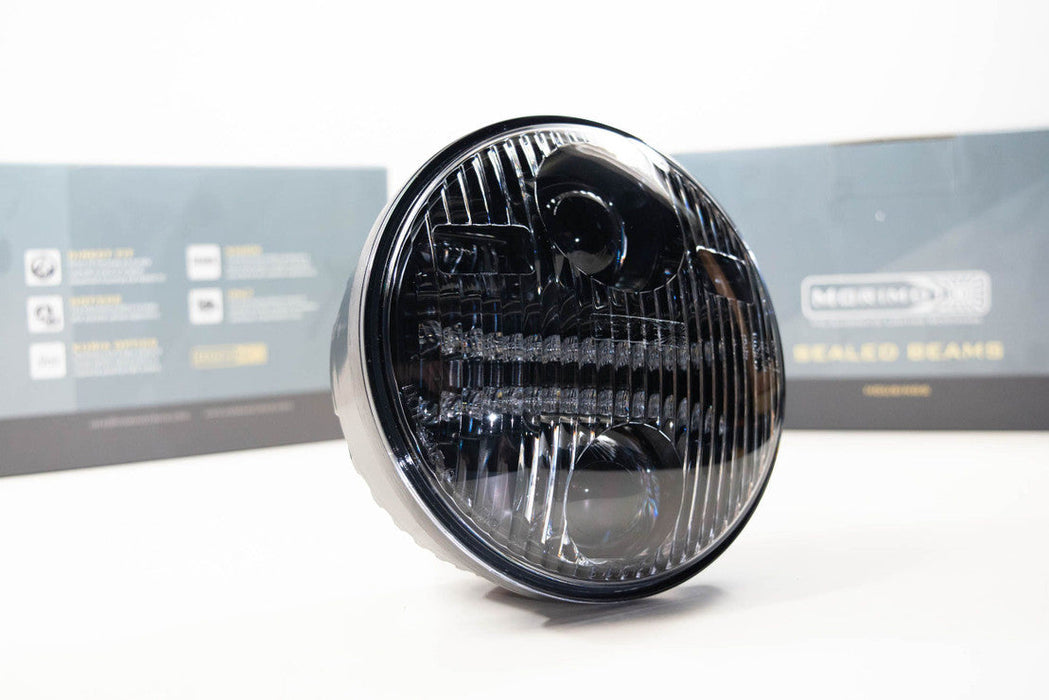 Sealed6: Morimoto Bi-LED
Original price
$268.18
-
Original price
$268.18
Found a better price? Let us know and we will match it
Availability:
in stock, ready to be shipped
Just when you think:  You've done your research and come across every last option in the 5.75 round sealed Beam LED market, these should catch your attention. While it's true there's only so many ways you can package a set of low and high beam LED-based optics into a small round headlight; Morimoto's Sealed6 pulls it off in the most functional and elegant setup possible.
Proprietary:  The Morimoto Sealed6 is all-new, all-original from the ground up. Until now, there were basically three distinct products on the market. You have the high-end J.W. Speaker 8630 at the top of the price spectrum. Then there are the cheap J.W. Speaker knock-offs, re-branded by companies A,B, and C...and last but not least you have the options like the Truck-Lite reflector-based 5.75" lights...again, re-branded by company X,Y, and Z. The Morimoto Sealed6 LED headlights are unlike anything else on the market.
Output:  In low beam mode, Nichia NCSW170C Series LED's paired with Morimoto's advanced Kuria Optic projector lens array efficiently distributes 2400 lumens on the road in a properly LHD-stepped beam pattern. In high beam mode, the Sealed6 illuminates an extra set of optics, upping the overall output to 4300 mosquito-melting lumens there.
DRL / Switchback:  The dual light-pipe DRL setup has both a high-intensity white daytime running light and a low-intensity white parking light. The 2-wire DRL/Signal input makes setup easy. If you don't care for the DRL function though, they do not have to be wired in.
Quality:  No expense was spared when designing the Sealed6. The heart of the headlight is powered with high quality LEDs from Nichia-Japan and Philips-Lumileds. These aren't cheap emitters to begin with. Your classic car has already withstood the test of time and the UV-coated polycarbonate lens will take another couple decades worth of abuse without fading. You can feel the precision in the heavy-duty die-cast housings that double as a heat-sink. A special PWM LED driver resides inside of the headlight to keep the LED's running at their peak intensity, even during prolonged periods of use.
5.75" Standard:  Designed to replace all 5.75" round headlights, these are cross compatible with other sizes commonly known as H5001 or H5006. The Sealed6 offers full low and high beam functionality. They come standard with H4 3-pin male inputs and should be plug and play on most classic cars / trucks.
Benchmark:  Morimoto. The Automotive Lighting Benchmark. We are globally recognized as the brand to beat when it comes to aftermarket lighting upgrades for the automotive aftermarket. No other brand blends performance, quality, and style quite like we do. Our vast product line covers today's most popular trucks and cars. If you don't see it, trust that we can make it. Whether you're interested in something off the shelf or a brand new product designed exclusively for you: Connect with us Today!
Request an Installation Quote

Call us to get an installation Quote