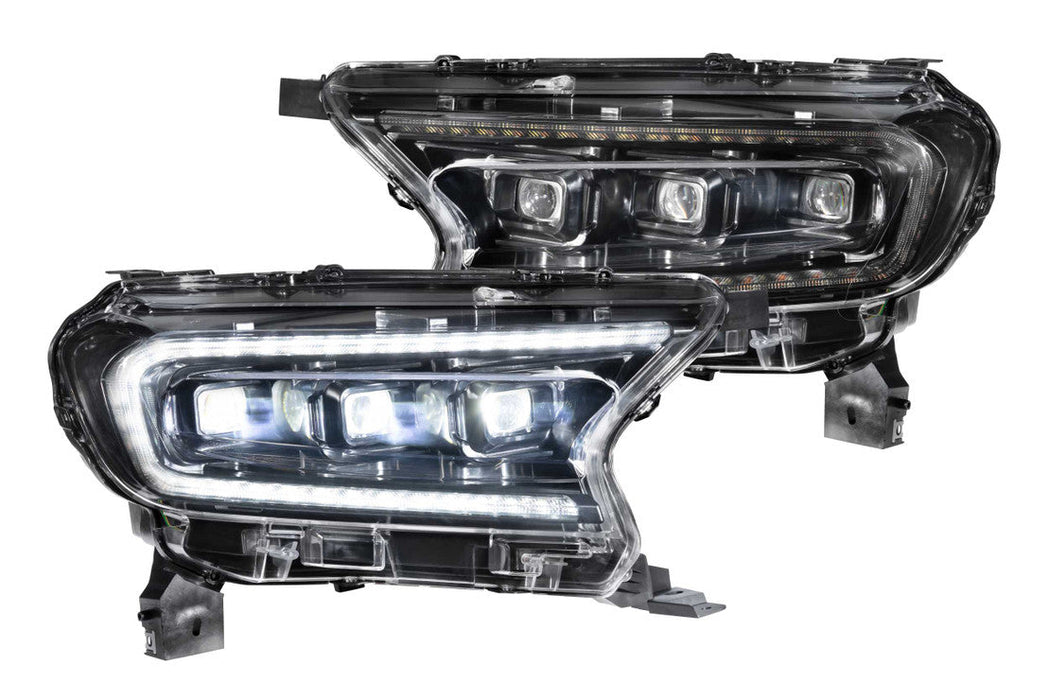 XB LED Headlights: Ford Ranger (19-21) (Pair / ASM)
Original price
$1,431.00
-
Original price
$1,431.00
Found a better price? Let us know and we will match it
Availability:
in stock, ready to be shipped
Much Needed:  Whether you are working on building a Ford Ranger up for to be a road warrior or trail blazer, there's one thing that the original headlights lack... and that is: Everything. So what does your truck need? Triple Bi-LED headlights with a crazy bright daytime running light, a sequential turn signal, blacked out internals, and a fantastic beam pattern. The Morimoto XB LED headlights for the 2019+ Ford Ranger will do the trick!
Six Low Beams and Six High Beams:  First things first. These are the first and only set of headlights in the entire Morimoto XB lineup that use not one, not two, not three, but three Bi-LED projectors. Yes that is three low beams, and three high beams to provide you with maximum output. These things are much brighter and wider than the stock halogen or LED headlights, and will also out-perform other options out there in the aftermarket too.
Start up Sequence:  And if the optical upgrade isn't enough for you, then surely the special start-up sequence on the projectors will reel you in. When the Daytime Running light kicks on, the projectors illuminate in a two-stage sequence before turning back off. While it does absolutely nothing for performance, you can't deny the cool-factor!
Daytime Running Light:  Their LED daytime running light is powered by Osram 5000K LEDs and is insanely bright, easily visible during the day. The turn signal function uses the same optics paired with amber LED chips to produce a full sequential setup that's equally sexy. For those who are a bit more traditional... Yes... they can also be setup to run as solid on/off style signal too.
DOT Approved:  Make no mistake, these will produce a much better result than slapping some LED replacement bulbs into your stock headlights. Their triple-projector optics meet & exceed all SAE, DOT, and FMVSS108 regulations when aimed properly... and that's easy to do with their integrated adjusters.
Plug and Play:  Wiring is easy too! The Morimoto XB Ranger headlights are designed to work on your truck without any modifications. They will plug into the factory connectors for the stock headlights. No error codes, no flickering, hyper-flashing, or radio interference. They can easily be removed and will not void your factory warranty. These headlights will work with trucks that came stock with the basic halogen headlights, and the higher-end version with the projectors and LED DRL.
Benchmark:  Morimoto. The Automotive Lighting Benchmark. We are globally recognized as the brand to beat when it comes to aftermarket lighting upgrades for the automotive aftermarket. No other brand blends performance, quality, and style quite like we do. Our vast product line covers today's most popular trucks and cars. If you don't see it, trust that we can make it. Whether you're interested in something off the shelf or a brand new product designed exclusively for you: Connect with Morimoto Today!
Request an Installation Quote

Call us to get an installation Quote